Make it Personal with Custom Pizzas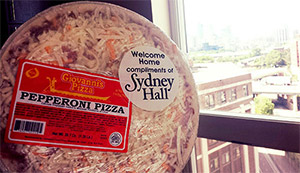 If you're looking for an innovative way to get your message across, consider putting it on a customized pizza from Giovanni's Frozen Pizza! Our custom pizzas feature a personalized label with your business logo or message on it.
Customized pizzas are a thoughtful and creative way to send a welcoming message, a thank you or even a holiday greeting. When you order your custom products, the staff at Giovanni's Frozen Pizza will work with you every step of the way to make sure that your pizzas feature your desired ingredients and personalized message.
Shake things up by giving a unique pizza that everyone can enjoy! Custom pizzas from Giovanni's Frozen Pizza make a great choice for the following organizations:
Businesses: Our custom pizzas are a favorite with countless businesses who are looking to spread the word about their services. Through a custom pizza, you can send a greeting to your customers, thank your employees, promote your company and more. Not only will recipients be glad to have a gift they can enjoy, your message will stick in their head long after the pizza is gone!
Schools: The custom pizzas made by Giovanni's Frozen Pizza provide an ideal way to welcome students to campus or thank those who have given donations to your school. Your personalized pizza can feature a label with the school's logo and any message or greeting of your choosing.
Sports teams: Tastier than any trophy, our custom pizzas make the perfect end-of-game gift. Players will love taking home a pizza with their team's name or mascot on it. Even more, they'll enjoy eating a delicious treat after a well-played season.
Make your message memorable with a unique gift that is as delicious as it is fun. For more information on how our pizza wholesalers and distributors can help you spread the word about your business or organization in Brainerd, Garrison, Sylvan, Crow Wing, or Baxter, MN, contact us at Giovanni's Frozen Pizza today by calling 218-829-8520.