Boost Your Menu with Quality Pub Pizzas
For over 20 years, Giovanni's Frozen Pizza has provided businesses and distributors throughout Brainerd, Garrison, Sylvan, Crow Wing, and Baxter, MN with top-quality pizza wholesale menu options. We make it our mission to craft unique, homemade pizzas that you can feel proud to serve. Using only the freshest and most flavorful ingredients, we make each and every one of our pizzas to suit your business' needs.
Giovanni's Frozen Pizza works with taverns, bars, resorts, convenience stores, clubs and more to deliver top-quality pizzas. Businesses across seven northern U.S. states rely on our pizzas for the following reasons:
Freshness:

Throughout our decades of business, we discovered a way to keep our pizzas tasting freshly made. It's important to us that we provide your business with a menu option you can feel confident serving, that's why we only use the best ingredients and highest quality preparation methods possible. Our pizza is so fresh tasting, you'll never believe it was once frozen.

Convenience: As a prominent wholesaler, we have years of experience partnering with businesses and distribu

t

o

rs

to ensure the highest quality service. We work with you every step of the way to provide your operation with a convenient menu option that is competitively priced.

Our high quality pizza will keep customers in your business instead of leaving to eat somewhere else.

Flavor:

 We believe there's no need to sacrifice flavor for functionality.

It all starts with a thin & crispy crust. Then we use generous portions of our signature sauce, followed by lots of toppings! We finish it all off with a special blend of Mozzarella, Cheddar, & Provolone cheeses that are shredded from the whole blocks just minutes before hitting your pizza so you know it's as fresh as can be.
---
Our Pub Pizzas: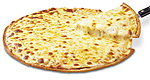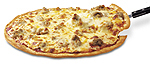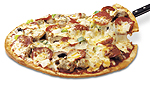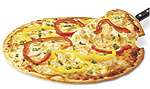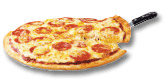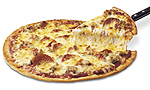 Sausage/Pepperoni & Extra Cheese
10, 12″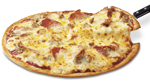 ---
---
At Giovanni's Frozen Pizza, we specialize in creating one-of-a-kind pizzas that will keep customers coming back for more. For additional information on how Giovanni's Frozen Pizza can support your business needs, contact our pizza experts today by calling 218-829-8520.