A Favorite Featured Product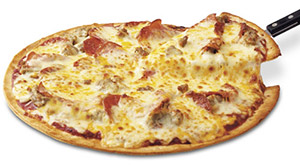 Every cook has a signature dish that they're known for. At Giovanni's Frozen Pizza, it's our delicious freshly made Famous 4 Meat Pizza. This award-winning pizza was the first home-run hit that our business created for our clients throughout Brainerd, Garrison, Sylvan, Crow Wing, and Baxter, MN. This pizza-lovers favorite is still just as popular with our customers today. With delicious chunks of Italian sausage, Canadian bacon, pepperoni and pork sausage, it's truly something you have to taste for yourself.
Since the creation of our Famous 4 Meat Pizza, our company has remained dedicated to delivering innovative pizza options to our diverse clients. Over the last 20 years, we've expanded our product options and our customer base so that we can serve businesses and distributors across the northern U.S. We have put endless thought, effort and love into every pizza we create. To us, we are not just creating a product, we're crafting pizzas that can be enjoyed by countless customers – your customers!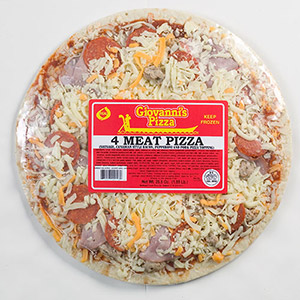 Our featured pizza has been thoroughly taste-tested to ensure we provide you with the best possible flavors. To keep all our pizzas tasting fresh, we only use the highest-quality, garden-fresh ingredients in every item we create. We make each of our pizzas ourselves with our secret sauce recipe and special thin crust. Whether you're looking for a traditional cheese pizza or our popular Famous 4 Meat Pizza, you can rest assured that every component of your order meets our incredibly high standards.
As a family-owned business we take pride in serving each of our clients with premier products and the best customer support available. Whether you need one hundred pizzas or one thousand pizzas, we deliver the same, high-quality service. To learn more about our featured product, or for more information about the quality pizza wholesale offerings provided by Giovanni's Frozen Pizza, contact us today by calling 218-829-8520.