Giovanni's Distributor Network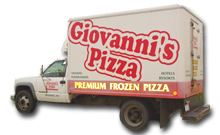 Giovanni's Frozen Pizza is expanding its network of valued partners. We provide top-quality pizza wholesale at great prices to our distributors and they, in turn, aid in bringing delicious Giovanni's products into new areas beyond Brainerd, Garrison, Sylvan, Crow Wing, and Baxter, MN. Contact us with questions!
Distributors are further rewarded by placement on our website to bring enhanced visibility to their business and that of their customers. Check out our expanding list of folks who proudly distribute and deliver the finest frozen pizza around!
---
HEY TAVERNS! Supercharge your Giovanni's Pizza Sales with these great Sales Aids! Call our office to order your supply today. Call 218-829-8520.
---
After our link is on your site, email us. Provide the URL of the page containing our link. If approved, we will add your link within 48 hours. If you have a rustic home or furniture-related site and have advertising opportunities on your site, please let us know. We are a company of people engaged in the production of food, seeking to pursue truth and integrity, and committed to creating value for our shareholders, our customers, and our people in the process.
Links – Our Valued Partners!
Central Restaurant Products | Wholesale restaurant equipment and supplies.
Central Lakes College | The CLC Business and Industry Center provides education, training and consulting to customers so individuals and organizations can achieve their business goals and objectives.
Hy-Tec Construction | Hy-Tec Construction is a general contractor specializing in commercial construction, which includes but is not limited to: educational, industrial, medical, offices, bank facilities, churches, retail spaces and warehouses.
Icefishing.org | Brainerd JC's gigantic icefishing extravaganza.
Ichotelsgroup.com | Holiday Inns and other fine lodging and entertainment for business and pleasure.
Lakes Printing | Lakes Printing has the knowledge and experience to be "Your Printer". Our dedicated, experienced staff has the capability to produce any printed product you or your business may need.
Mills Auto | Auto retailer giant in Baxter selling several lines of quality automobiles and trucks.
Morey's Markets | Today, we're known as one of the premier fish and seafood companies in the country, supplying fine-dining restaurants throughout the Midwest and serving customers at our two retail stores and cafes in northern Minnesota.
Northern Lights Casino | Northern Lights Casino is proudly owned and operated by the Leech Lake Band of Ojibwe. Our new facility, which opened in May of 2001, is located four miles south of Walker, Minnesota.
Northern Lights Distributing | Northern Lights Distributing is committed to providing quality products and prompt, courteous service to all our customers in an efficient manner.
Sandstrom's Incorporated | Sells and delivers a wide variety of retail and foodservice products to foodservice, convenience and grocery stores.
Tyson Foods | Find out how Tyson helps businesses grow and communities thrive.
Performance Food Service | Performance Food Service is your full-line food distribution choice specializing in the areas of Italian, Pizza, Vending, Office Coffee, Concessions, Fundraising and Theater markets.
Wisco Industries | Wisco Industries is a preferred "supply partner" of metal stampings and assemblies to leading OEMs in automotive, appliance, and other major industries.
Watson Company | The Watson Company is a Wholesale Distributor located in Cambridge, Minnesota that services the area from Albert Lea to Duluth and from the Wisconsin border to west of St. Cloud.
Sandstrom's Distributing | Distributing quality and service for over 60 years. A Minnesota-based regional distributor, offering next-day, on time delivery, vendor consolidation, and a full service "one stop shop".
Sysco (Montana) | Maintains a focus on local customers as well as partners with customers that range from small, independent owners to nationally known franchises and everything in between.
Sysco (North Dakota) | Sysco North Dakota ships food and non-food products to a customer base of restaurants, hotels, schools and healthcare facilities.
Sysco (Western Minnesota) | Regional Sysco location to service the greater central Minnesota area. Providing a retail store that is open to the public, and also a USDA-inspected processing facility where production of their own unique items occurs.
Reinhart Foodservice (Rogers) | Your full-line food distribution choice specializing in the areas of Italian, Pizza, Vending, Office Coffee, Concessions, Fundraising and Theater markets. (link to this site: https://www.performancefoodservice.com/) Holloway Distributing Co. | Wholesale distributor located in Puxico, MO. Servicing customers in Southern Missouri including convenience stores, food service establishments, schools, nutrition centers, and more.