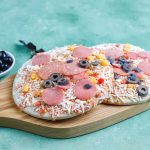 Nothing beats the convenience and deliciousness of a frozen pizza. Whether you're in a rush, hosting a gathering, or simply craving a quick and satisfying meal, frozen pizzas are a go-to choice for many. While it may seem straightforward, there are proper techniques that can help you achieve the perfect crisp crust and evenly melted cheese that we all desire. In this blog post, we will explore the proper way to cook frozen pizza, from preheating the oven to achieving the ideal cooking time.
1. Preheating the Oven:
Preheating the oven is a crucial step in the pizza cooking process. Before placing your frozen pizza in the oven, set it to the recommended temperature found on the packaging. Preheating ensures that the pizza cooks evenly and thoroughly, resulting in a crispy crust. It also helps to maintain a consistent cooking time and prevent any sogginess.
2. Choose the Right Baking Tray:
Using the right baking tray is essential for achieving the desired pizza texture. Opt for a perforated pizza pan or a baking stone to allow air circulation, which helps create a crispy crust. These types of trays prevent the bottom of the pizza from becoming soggy, as they promote heat distribution throughout the dough. If a perforated pan or baking stone is not available, a regular baking sheet can also be used, but the crust may not achieve the same level of crispness.
3. Avoid Overloading with Toppings:
While it may be tempting to pile on the toppings, it's important to avoid overloading your frozen pizza. Too many toppings can prevent the crust from properly cooking and result in a soggy middle. Stick to a moderate amount of toppings to ensure that they cook evenly and contribute to a balanced flavor profile.
4. Follow the Recommended Cooking Time:
Each brand and type of frozen pizza may have different cooking time guidelines. It is crucial to follow the recommended cooking time provided on the packaging. This time is typically an estimation based on the size and thickness of the pizza. Overcooking can dry out the pizza and lead to a tough crust, while undercooking can result in a doughy and unappetizing center.
5. Keep the Oven Door Closed:
While it may be tempting to check on the progress of your pizza, it's best to resist the urge to continually open the oven door. Opening the oven door allows heat to escape, resulting in uneven cooking and potentially extending the cooking time. It's best to rely on the recommended cooking time and use a timer to avoid any unnecessary disruptions.
6. Let it Rest:
Once the cooking time is complete, remove the pizza from the oven and let it rest for a few minutes before slicing. Allowing the pizza to rest ensures that the cheese sets and holds its shape, making it easier to slice and serve. It also helps avoid any burns or injuries from piping hot cheese.
7. Customize and Enhance:
While frozen pizzas are delicious on their own, you can always add your personal touch to make them even more enjoyable. Consider adding some fresh herbs, such as basil or oregano, to enhance the flavor. You can also sprinkle some crushed red pepper flakes for an extra kick of heat. If you prefer a crispier crust, brushing the edges with a bit of olive oil before baking can achieve a delightful crunch.
Summary
Cooking frozen pizza may seem simple, but following a few proper techniques can make all the difference in achieving the perfect result. Preheating the oven, using the right baking tray, not overloading with toppings, following the recommended cooking time, keeping the oven door closed, allowing the pizza to rest, and customizing to enhance are all crucial steps in cooking a delicious frozen pizza. With these tips in mind, you can enjoy a mouthwatering pizza experience from the comfort of your own home.
Got Questions? Let Us Help!
Welcome to Giovanni's Frozen Pizza, premium pizza manufacturer and distributor for seven states to date! With over 29 years experience in the pizza making industry, Giovanni's has been providing the best tasting pizza's with the most unique, delicious flavor. Giovanni's Frozen Pizza provides top quality products at the best prices to all of our distributors. Our sauce is what makes our pizza so unique; we use a special recipe thin crust, so that our pizza is 30% crust, and 70% toppings! Contact us today to learn more about what we can do for you!