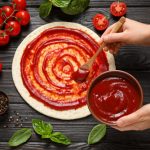 Pizza is a beloved dish enjoyed by people all around the world. While the crust and toppings may get most of the attention, the sauce is what ties it all together. In this blog post, we will explore some special types of pizza sauces that go beyond the traditional marinara and add unique flavors and twists to your favorite pizza. Whether you're a pizza aficionado or an adventurous foodie, these special pizza sauces are sure to take your pizza experience to the next level.
Pesto Sauce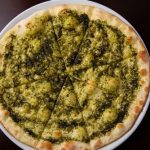 One of the most popular non-traditional pizza sauces is pesto sauce. Made from fresh basil leaves, garlic, pine nuts, Parmesan cheese, and olive oil, pesto sauce brings a vibrant and herby flavor to your pizza. Its bright green color adds a visually appealing touch to any pizza. Pesto sauce pairs exceptionally well with toppings like tomatoes, mozzarella, and grilled chicken. The combination of the earthy pesto flavor with the melty cheese creates a unique and delicious pizza experience.
Barbecue Sauce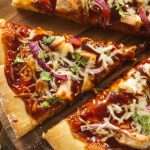 For those who love a smoky and tangy twist to their pizza, barbecue sauce is an excellent choice. Barbecue sauce adds a rich and sweet flavor profile to the pizza, complementing toppings like chicken, bacon, and red onions. The combination of the charred and caramelized flavors of the barbecue sauce with the chewy crust creates a delightful savory experience. Barbecue chicken pizza, topped with shredded chicken, barbecue sauce, red onions, and mozzarella cheese, is a classic favorite that showcases the unique flavors of barbecue sauce.
Buffalo Sauce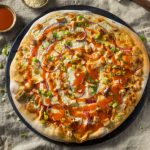 If you're a fan of spicy food, buffalo sauce is the perfect pizza sauce for you. Buffalo sauce is made from a mixture of hot sauce and melted butter, giving it that distinctive spicy kick with a buttery undertone. When used as a pizza sauce, buffalo sauce adds a fiery flavor and pairs well with toppings like chicken, blue cheese, and celery. Buffalo chicken pizza, topped with chunks of buffalo chicken, blue cheese crumbles, and drizzled with ranch dressing, is a popular choice for spice enthusiasts.
White Sauce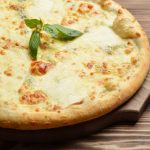 For those who prefer a creamy and rich flavor on their pizza, white sauce is an excellent alternative to traditional tomato-based sauces. White sauce is typically made with a combination of heavy cream, garlic, cheese, and sometimes a hint of lemon zest or nutmeg. It creates a velvety and indulgent base for your pizza and pairs well with toppings like mushrooms, spinach, and caramelized onions. The combination of the creamy white sauce with the earthy flavors of the toppings creates a luxurious and satisfying pizza experience.
Conclusion
Pizza sauces play a crucial role in elevating the flavors of your favorite pizza. While traditional marinara sauce is a classic choice, exploring special types of pizza sauces can add a whole new dimension to your pizza experience. Whether it's the vibrant and herby pesto, the smoky and tangy barbecue, the fiery buffalo, or the creamy white, each one offers a unique flavor profile that can take your pizza to the next level. So, next time you're craving a unique pizza experience, don't hesitate to try one of these special pizza sauces and delight your taste buds with a flavorful and delicious adventure.
Got Questions? Let Us Help!
Welcome to Giovanni's Frozen Pizza, premium pizza manufacturer and distributor for seven states to date! With over 29 years experience in the pizza making industry, Giovanni's has been providing the best tasting pizza's with the most unique, delicious flavor. Giovanni's Frozen Pizza provides top quality products at the best prices to all of our distributors. Our sauce is what makes our pizza so unique; we use a special recipe thin crust, so that our pizza is 30% crust, and 70% toppings! Contact us today to learn more about what we can do for you!