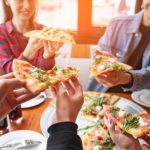 Minnesota, often referred to as "pizza country," is a place where people love to gather and have a great time. Whether you're at a local tavern, a resort, on a boat, in an ice house, or a water park, there's one thing that consistently unites these experiences – pizza. But not just any pizza, frozen pizza, which is a convenient and delicious option that doesn't demand the labor and perishable products that making pizzas from scratch does. In a mere 10-15 minutes, you can serve your customers a piping hot pizza that, if you choose the right company, rivals the quality of a pizza from a pizzeria. Among the many options available, Giovanni's stands out as a premium choice that has been delighting pizza lovers for over 30 years. With all of our signature sauces, premium meats, and a 100% natural cheese blend, our frozen pizzas bring the authentic pizzeria experience right to your establishment.
A Slice of Uniqueness
If there are several high-quality frozen pizzas on the market, how do you decide which one is right for your business? Your establishment should be a special place, where your customers come to relax, have fun, and enjoy an experience that's uniquely yours. When you serve pizza, it should reflect the distinctive nature of your business. Consider this: If the pizza you're serving can be easily purchased at any convenience or grocery store in your area, how unique is it? This question is especially pertinent for the many Minnesota resorts that people frequent to escape their daily lives. These visitors are looking for an escape from their routines, so why would you serve them the same pizza they can get at home, which may even be a part of their daily routine? It simply doesn't make sense.
Your business is special, and your choice of pizza should reflect that uniqueness. Giovanni's, with our premium frozen pizzas, fits the bill perfectly. While we are available in a few select retail stores in our area, our primary presence is in establishments like yours. So, before you decide which premium frozen pizza to carry, think about giving your customers something that they can most likely only find at your place.
The Giovanni's Difference
Giovanni's has been perfecting the art of pizza making for over three decades. Our commitment to quality, taste, and authenticity is what sets us apart. When you choose Giovanni's, you are offering your customers more than just a meal; you're providing them with an experience. Here's why Giovanni's is the better choice:
1. Superior Ingredients:
Our pizzas are made using only the finest, carefully sourced ingredients. From our delectable sauces to our high-quality meats and our 100% natural cheese blend, we prioritize taste and quality above all else. When your customers bite into a slice of Giovanni's pizza, they'll taste the difference.
2. Signature Sauces:
The heart of any great pizza lies in its sauce. Giovanni's takes pride in its signature sauces, which are crafted to perfection over years of experience. Whether it's our rich tomato sauce or our creamy Alfredo, these sauces are what elevate our pizzas to a premium level.
3. Premium Meats:
Our selection of meats, including Italian sausage, pepperoni, and more, is nothing short of exceptional. We choose only the best cuts, ensuring that every bite is packed with flavor and tenderness.
4. 100% Natural Cheese Blend:
Cheese is another aspect where we refuse to compromise. Our 100% natural cheese blend is the perfect combination of mozzarella, cheddar, and provolone, providing that classic cheesy pull that pizza enthusiasts crave.
5. Consistency:
Giovanni's has been perfecting its recipes for over 30 years. When your customers order our pizza, they can expect the same outstanding quality every time. Consistency is key in the restaurant business, and Giovanni's delivers it in every box.
6. Unique to Your Establishment:
As mentioned earlier, Giovanni's pizzas are primarily found in establishments like yours. By offering Giovanni's, you're giving your customers something unique and special that they can't easily find elsewhere. This exclusivity sets you apart from the competition and makes your establishment even more memorable in the eyes of your patrons.
Conclusion
When it comes to choosing a premium frozen pizza for your establishment, Giovanni's is the better choice. We offer superior ingredients, signature sauces, premium meats, a 100% natural cheese blend, and a level of consistency that you can rely on. Moreover, our pizzas are not only delicious but also unique to your business, giving your customers an experience they can't find elsewhere. Make the wise choice and elevate your pizza offerings with Giovanni's, making your establishment truly special in the eyes of your customers!
Got Questions? Let Us Help!
Welcome to Giovanni's Frozen Pizza, premium pizza manufacturer and distributor for seven states to date! With over 29 years experience in the pizza making industry, Giovanni's has been providing the best tasting pizza's with the most unique, delicious flavor. Giovanni's Frozen Pizza provides top quality products at the best prices to all of our distributors. Our sauce is what makes our pizza so unique; we use a special recipe thin crust, so that our pizza is 30% crust, and 70% toppings! Contact us today to learn more about what we can do for you!