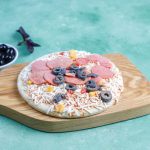 When you think of a freshly baked pizza, you probably envision a pizzeria with a brick oven and a chef expertly tossing the dough. However, in recent years, an increasing number of restaurants have turned to freezing their pizzas before cooking them. This change may seem counterintuitive, but there are several reasons why freezing has become a popular method for preparing pizzas. Let's delve into the reasons behind this trend.
1. Convenience and Efficiency
Freezing pizzas offers a significant advantage in terms of convenience and efficiency for restaurants. By freezing pizzas, chefs can prepare large batches ahead of time, ensuring that they have enough ready to serve during peak hours. This eliminates the need for constant dough preparation and allows for more efficient operations, particularly during busy times when quick service is crucial.
2. Consistency in Quality
Consistency is key when it comes to running a successful restaurant. Freezing pizzas provides a level of consistency that is hard to achieve with freshly made dough each time. Freezing locks in the flavor and texture of the pizza, allowing for a consistent taste and presentation. This is especially important for chain restaurants or establishments with multiple locations, as it ensures that customers can expect the same high-quality pizza every time they visit.
3. Extended Shelf Life
Fresh dough has a limited shelf life. It can quickly become stale and lose its taste and texture, resulting in a subpar pizza. By freezing pizza dough, restaurants can extend its shelf life significantly. Frozen dough can be stored for much longer periods, giving establishments more flexibility in managing their inventory and reducing waste.
4. Cost Savings
Freezing pizzas can also lead to cost savings for restaurants. By buying ingredients and preparing pizzas in bulk, establishments can take advantage of bulk purchasing discounts and reduce overall costs. Additionally, freezing allows restaurants to utilize leftover toppings or ingredients from other dishes, reducing food waste and maximizing efficiency.
5. Easier Transportation
For pizza delivery services or restaurants with multiple locations, frozen pizzas offer significant advantages in terms of transportation. Frozen pizzas are more compact and sturdier than fresh pizzas, making them easier to package and transport without compromising their quality. This means that customers can enjoy a delicious, freshly baked pizza delivered to their doorstep, even if they live far from the restaurant.
6. Ability to Experiment with Flavors
Another advantage of freezing pizzas is that it allows chefs to experiment with different flavors and combinations. By preparing frozen pizzas, restaurants can offer a wider variety of specialty pizzas with unique toppings and ingredients. This encourages the exploration of new flavors and allows customers to try different tastes without the need for extensive menu changes.
7. Preservation of Traditional Recipes
For restaurants that pride themselves on their authentic and traditional pizza recipes, freezing pizzas is a way to preserve these time-honored techniques. Freezing can help maintain the original flavors and textures that have made certain pizzas famous. By freezing and then baking the pizzas, restaurants can stay true to their heritage and deliver a genuine culinary experience to their customers.
Summary
While the idea of freezing pizzas may initially seem odd, the reasons behind this trend within the restaurant industry are clear. Freezing pizzas provides convenience, consistency, extended shelf life, cost savings, easier transportation, experimentation with flavors, and preservation of traditional recipes. These advantages have made the freezing method increasingly popular among restaurants, enabling them to efficiently meet customer demand and deliver high-quality pizzas consistently. So, the next time you order a pizza from your favorite restaurant, don't be surprised if it was frozen before it reached your plate.
Need Wholesale Frozen Pizzas in Brainerd, MN?
Welcome to Giovanni's Frozen Pizza, premium pizza manufacturer and distributor for seven states to date! With over 29 years experience in the pizza making industry, Giovanni's has been providing the best tasting pizza's with the most unique, delicious flavor. Giovanni's Frozen Pizza provides top quality products at the best prices to all of our distributors. Our sauce is what makes our pizza so unique; we use a special recipe thin crust, so that our pizza is 30% crust, and 70% toppings! Contact us today to learn more about what we can do for you!